Structure
A head office located 2 Avenue André, 92420 (FRANCE).
A warehouse and a workshop located in Le Plessis-Paté (91 - FRANCE). It is possible to meet us there by making an appointment by calling +33 (0) 1 47 95 44 51.
Shipments are transported by our transporter Geodis. The shipping time is of 24 to 72 hours depending on the place of shipment. For exportation from 48 hours to one week depending on locations.
Electric bicycle specialist in France since 2005, ACB, with its brand CyclO2, develops new offers to participate to the growth of eco-mobility. After the electric assistance bicycle, the electric tricycle and the non-electric foldable bicycle have completed the range of environmentally friendly means of transport that we offer. You can find us in the best bike specialists' shops in Paris, Lille, Nantes, Bordeaux, Marseille, Montpellier and Nancy. As actor in sustainable development, we have joined associations campaigning for environmentally friendly means of transport. Companies and local authorities have put their trust in us: join us!

PhilosophY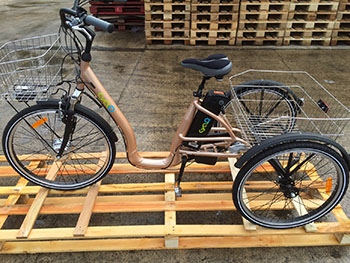 Quality first! In a will to provide the best quality, we choose with great care our different spare part suppliers and carry out a systematic quality control of all of our bicycles leaving the assembly line: 40 points are therefore checked.
Customer care driven! 5-year warranty for the frame, 2-year warranty for the engine and for all of the other electric parts. An after-sales service is available from 10am to 7pm from Monday to Saturday by phone or by mail at the following: This email address is being protected from spambots. You need JavaScript enabled to view it..
Evolutivity: while remaining economical, each time a new spare part or a new technology is introduced on the market, we choose to upgrade our bicycles in order to meet new needs in terms of comfort, safety and performance.
HistorY
Right from 2004, we have designed our first models of electric assistance bicycles and have initiated their conformity to the French standards applicable at that time.
The ACB Company was founded by the common will of its first two partners in May 2005.
Since this date, ACB has attracted the loyalty of the best specialists and has won the trust of companies and local authorities that whish to equip themselves with a fleet of electric assistance bicycles.